Vice Chancellor Solves Residence Crisis
Professor Alan Dubious has solved the long running shortage in student accommodation by opening his stately home to female students. Since Spring Garden Mews Halls of Residence was discovered to be in a dangerously unsafe condition, by the team from the BBC's "McTavish Undercover", over a hundred students have been forced to stay in the local shelter for homeless drug-addicts.
We asked Professor Dubious how he came up with this revolutionary idea:
SM: Professor Dubious, how did you come up with this revolutionary idea ?
PD: Well in fact it was my wife's idea. We'd just finished refurbising the west and north wings of our 18th century pile and she suggested we might be eligable for some tax relief if we open a couple of hundred rooms up to students. So, I checked it with my people and it turned out the little lady was right!
SM: Thank you so much for sparing us some time from your busy schedule to talk to us. We really do appreciate it. Really. You're doing a wonderful job. Sir.
PD: My pleasure

Dr Mike Shagger was also keen to be of help. He writes "I'd be only too happy to put up a couple of desperate female students. Of course, since my most recent divorce settlement I can only offer one half of a wardrobe and leopard skin waterbed, but it would be my pleasure to support anyone in need".
Professor Dubious' wife, Roxanne, is 21.
Departmental Name Changes
Starting in the next academic year, the following departments will be renamed:
The Remedial Skills Unit will become "The Centre of Excellence for Skills development"
The Media Studies Department will become "The Department of Popular Media and Celebrity Science"
The Computer Science Department will become "The Department of Internet Shopping"
The External Communications Office (formerly the Press Office) will become "The Press Office"
The Management Blue Sky Task Force will be renamed "The Proactive Policy Driver Enhancement Team"
The Chemistry Department will become part of the new management hospitality centre and restaurant
Please update your address books accordingly, preferably using a pencil.
UBS Awards Honourary Degree to Barry Scott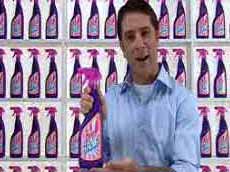 The Senior Management Team announced this week that they will be awarding an honourary degree to none other than Barry Scott, best known to most people as the face of Cillit Bang!® - The Household Cleaning Sensation®. He was nominated by the Students' Union president Nigel "The Wackmeister" Nomatés.
The head of Academic Affairs, Candida Albacans, spoke to Skidmark about the choice:
"Barry Scott is en-vogue at the moment, and known to every hardworking family in the UK. He has worked his way up from unemployed radio DJ to the face of Miracle Cleaning Product® Cillit Bang®. We're delighted to be awarding him this prestigious award."
Barry Scott was unavailable for comment owing to a previous engagement, opening the new "Nando's" chicken restaurant in Peckham High Street.
Achieving Excellence
The University's mission statement is to be streamlined in an effort to achieve the ISO 9002 quality standard. Mel Onsaripe, from the department of Quality Affairs spoke to us yesterday:
"UBS take quality very, very, very seriously indeed. Really! We really do. Very seriously. I can't stress how seriously we take quality here. It's a priority alright. Our number one goal. Key in our strategic plan, it is always regarded as essential. No doubt about that. So, the SMT are determined to achieve TQM, that's Total Quality Management, in order that we can be seen to be providing a quality service to our stakeholders. To that end, we will be replacing our existing mission statement with a new, snappy, concise and easily achievable objective:
UBS: Providing legally valid degrees to people who pay their fees.
"If we achieve all of the objectives in this statement we are confident that we will achieve ISO 9002 certification, and thus be an institution of real quality! Something we at UBS take very seriously."